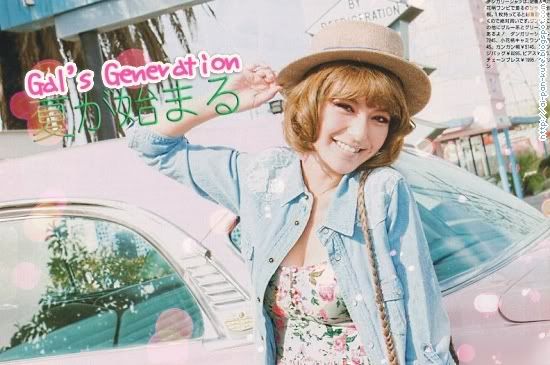 I don't know what to blog about, so I'll just start in order to see what will come out in the end!
All my tests are over so I can finally lean back and enjoy my free time a bit!
The perfect time to listen to songs like
Tonight
from TVXQ!

And here I'm not biased at all, the song's linked up there so please take a listen if you feel that you need sth new and unique!
I would say it's very untypical to the newer songs of them and esspecially JJ is awesome in here (sounding so not like him!)
And as Yoochun says, this song makes you fall in love again.
I wonder with who.

I was thinking abt
Girl's Generation
a lot after having this little chat abt them with Yuyeon.
What I like about them is
how wondrous
their concept.
Girly, Sunny, Naive
maybe.

At the same time it's exactly what I don't like about them, they behave so fake it makes me throw up!
Now seriously, I visited their site and watched every vid on it! Simply like them all!
I think their songs are really girly and easy to listen to (except
Gee
maybe! a bit too はで, maybe)
Will elaborate this topic at
some other time
.
Let's educate the world
is the subject of the next paragraph.
Today in school we were talking to a girl, who used to be in my class.
She's very pretty actually and many boys like her (a few years ago, guys were nearly crazy abt her).
She's quite obsessed abt food (or better no food) and weight (or better no weight) and being slim.
So today we got to know that she has been fasting this week, i.e.
no food for the whole week
.
And she really hasn't been eating anything since Monday. The horror!
We asked her if that was really true and she replied
No of course not. I ate vegetables in terms of juices
Right, she drinks
vegetable juices
. The difference of the year.
Of course, she wants to lose weight (I strongly assume so), but she told use that she wanted to detoxicate/ purify her body.
But, I'm not writing this to have a nice go at her, because I think, that it's not
that bad
. It's not worse than drinking or smoking, I suppose.
And while others fast because of religious beliefs, why can't other do so to lose weight.
The only problem is, that if you're not used to it, you could faint in the middle of the day, which can turn out to be rather impractical at certain moments.
So, although, it's kinda sick, I think for losing weight it's a nice
SOS method
. Though, I guess how many kilose you may lose, you gain them back on the 1st day after your fasting.
And my other friend told me that, in some TV broadcast she saw ppl who did this and they lost only 2,5kg lah!
Not worth at all!
I lose 1kg in one day, and that when I still eat breakfast!
(Don't think I'm sick now!
makin a Sai smiley face
That's about my
daily dose of knowledge
.
Let's switch to some
Vivi 03 10 scans
.
The reason why I put some pics under the cut is that some ppl have slow internet (like meeh!)
Here they are.
Vivi style is mostly
Vintage
, dreamy, muted, romantic~
That's why I wonder why their covers are so はで.
But I like it (as well as Ranzuki).
Vivi March 2010

Trends will be quillings/ ruching/ frills on skirts/ short dresses!
As I said some other time, NOT AVAILABLE in GERMANY!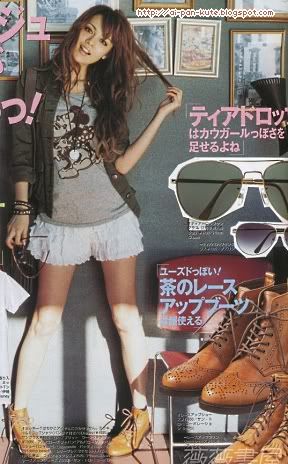 I fell for this frilled shorts! Love them!
Just saw some in some online shop! Mad love!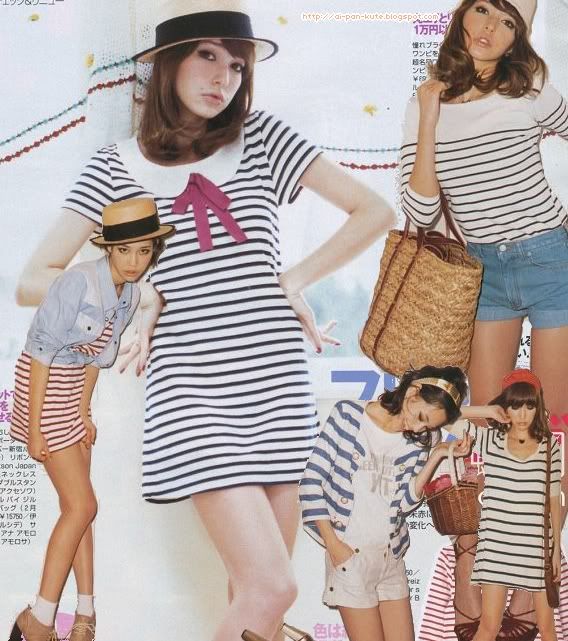 Trend 2: Marine stripes! Very classic! Typical for Vivi.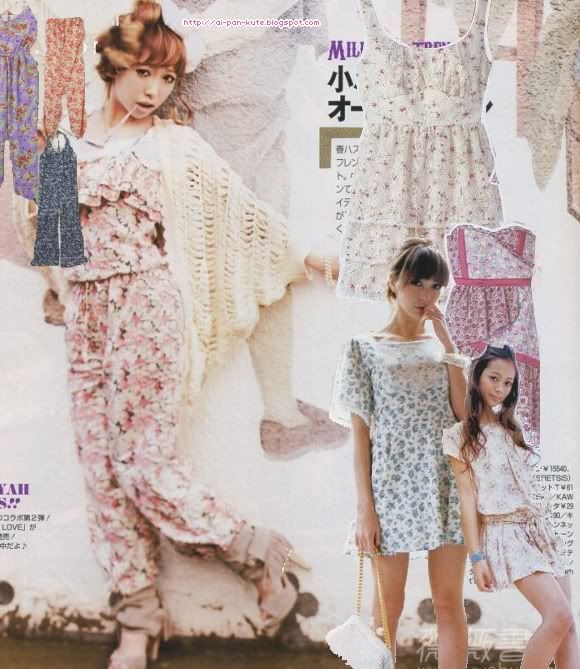 Trend 3: Charming flower patterns! Best if on some sort of overall!
Actually overalls themselves are quite in since last year! Also long dresses with more はで flower patterns.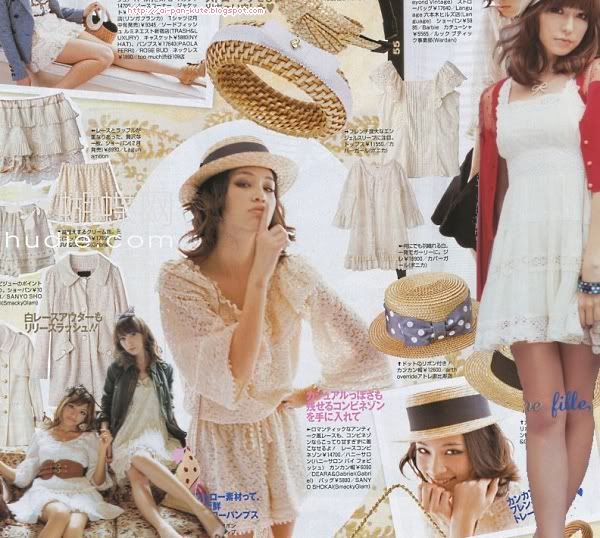 Trend 4: All time trend of Vivi. Cream white girly vintage stuff! Very romantic.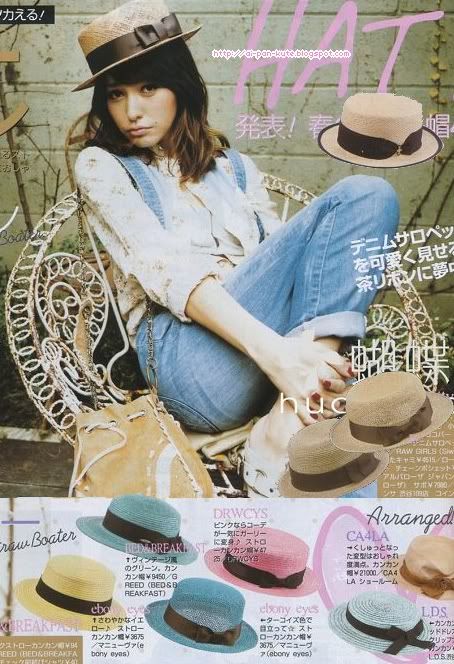 Trend 5: Most trendy trend! Kumiki's boater hats!
Note: H&M sells a shit load of hats, which don't suit me, but NOT this one.

Chu, ailing