should be learning physics right now =.=
Arrghhhhh !!! I hate myself !!!
I will totally fail in life you know?
I got so damn
N.O.T.H.I.N.G.
to tell you.
But well, it's
my blog
.
So let me write my thoughts down for a while.
It's absolutely incomprehensible for me why people rant about people who don't give credit, when they don't seem to give them themselves.
The chances for taking inspirations from my blog are 90% !!!
There are so many similarities !!!
But no credits and I think right now I don't even mind that (anymore).
Still, hey if you think you can rant about others, why don't you do it right yourself?
Another thing:
Do you think that giving credit in form of '
hearts
' or anything non-name like is wrong?
I think it's totally ok, as long as IF you're giving credit.
That person IS linked or is it not?
Why does anyone need their name on it?
Awwwww~
It's all helpless, peeps, the world is too damn ignorant~
Oh father, let me transcend into another place !!!

Now look at this: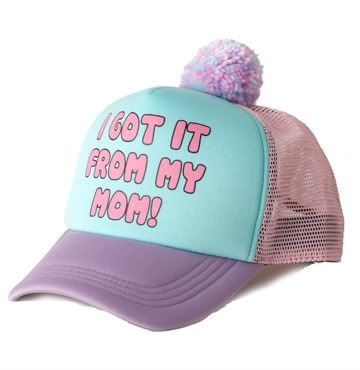 Isn't this cap the
CUTEST CAP
ever ?!
It's SBY and they got loads of damn cute stuff, but this cap is the peak of
cutesiness
!!!
For more cute stuff:
Gal'sPop
Gosh I wish I could buy that cap, it's totally overwhelmingly cute !!!
Nah, I neither understand that site, nor do I have any idea of whether they deliver to any country except Japan.
I guess they don't
So, now that's it.
I did my written
french diploma
test

today. It went so lalaaaa (ok, i might have messed the compréhension orale part

)
Pfffhhhh~
I hate
physics
, I don't want to learn for it !!!
Also, my
cam
is gone (or better my parents put it somewhere) and I can't take pics of the things I bought.
why the fuck is it smelling like burning sth all the time ???
arghh...... it's not my computer or something technical, isn't it?
寿るい
❤
Ah and btw, I named my
Gyaru Kitty
ゑ レヽ
(Rui) !!!
Rui is rly a cool gyaru name xD
There perfect name for her, for 2 reasons xD (or 3)
I rly love the
brown kittys
, how about you?
I*d love to show you a pic of Rui, but as I said, I have no cam xD

Well and also Anh Nam finally really 'bought' my wonderful already out of standard
mp3
xD
I still loves it
That's it for real this time.
See you next time, k?
After this test, life will be more easy wit me
Enjoy~
Chu, Aini
*sweety greetings* ヽ(´ー`)ノ
EDIT:
SNSD
's
Tell me your wish
is quite nice, but not as good as 'Gee' was.
Tho the song still roxxxx !!!!
*
Heart
*
P/s: I'm hardcore watching Hana Kimi, looking for the part when everyone is searching Sano and then Nakatsu says sth and everybody comes in and suggests stupid things Sano could be doing right now

Don't seem to find it tho.