YESSS !!!
Even my holidays started !!!
And I'm neither happy nor not !!!
In fact it could be that I didn't realize it yet~
Anyway,
sorry for neglecting this blog, but my life just happends to be boring from time to time and I happen to be bored too and therefore used my free time to travel to lazytown !!!
Secondly, I'm working on two new layouts... No wait, 3 new layouts !!! (more or less)
And then again sry for not replying to anything the last days/ week ヾ(_ _*)ハンセイ・・・
So and actually this isn't a proper post too, because I'm only writing it to fake a
recured bustle
on this blog, so my readership won't drop!
Also I wanted to speak some great words to mark the beginning of the holidays !!!
Here they were (_ _|||)
And the importanst thing to tell you is:
The next 6 weeks will stay boring like this, since I won't travel to anywhere !!!

(_ _,)/~~白旗〜
GOOD LUCK TO YOU
that I have an extra good
PLAN B
.
It is
POSTING MY FUCKING VIETNAM POST
already !!!
You remember that I were in Vietnam last year?
And I never posted the
pics
up ???
That's because the majority of the picchas are on a
2GB memory
card and my oh-so-dump tranferring truc
can't transfer
things from a 2GB memory card !!!!
So'll buy another transferring thing and then do a totally long picture post about my holidays in Vietnam last year?
Isn't that a good idea?

(It is in case you're not sure.... for whatever reason that should be so)
RECAP of more important things:
I llllliiikkkke Spanish !!!!
Ok I started to learn Spanish this year and I just did it to be able to chime in in stupid conversations abt languages by screaming I speak 5 languages and I'm learning 3 more what!!!
But then I watched Dirty Dancing 2 (yes, it's bitter) and I happen to like Diego Luna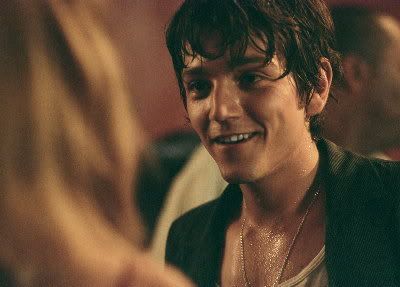 This is the best pic I could find of him, IF you should google him kindly overlook the pics in which he has a beard.
In the movie he looks 5 years too young for the girl, like 16 years old


And this was the story how I fell in love with the spanish speaking world and also with the non spanish speaking world as long as there's an spanish accent !!!
(o_ _)ノ彡☆バンバン ギャハハハ

So how'd u like it if my blog became a bit Spanish?
Por que no quiero olvidar todo~ (epik fail I guess)
Il me faut aussi que je n'oublie pas le francais !!!
Donc, je pense qu'il vaut mieux que j'essaye de blogger (?) en francais !!!
Comprendre? xD
I watched FF The Spirits within and Advent Children
Cloud's glasses were so cool on him, a pity that whateverhisnameis destroyed them !!!
Cloud is cute and Tifa sucks !!!
That's it, enjoy your life!
I'll be back when time demands it !!!
Chu, Ailynne-lynne
*Vietnam greetings*
UPDATE:
FUCK THE WHAT???
Also
she
has taken down several sites of
her homepage
.
Yes, I'm stalking her and I will do it until I know why she closed down everything !!!
She makes me hyper aggressive, her ugly pics, her stupid words~~~~~~
Pah!
Well her fugly designed homepage (not only ruined by the ugly header featuring herself) but also by the
shitass designer
(their homepage is omg), who is too stupid to make a all-time-aligned layout !!!
Sry for this little excess~