I know I wanted to post up some fashion and hair style pics, but let's postpone that for a bit!
(actually I'd have it all up yesterday, didn't there were photobucket having some problems for over 3 hours !!!)
Anyway
look at the headline and try to figure out the hidden meaning!
Hint: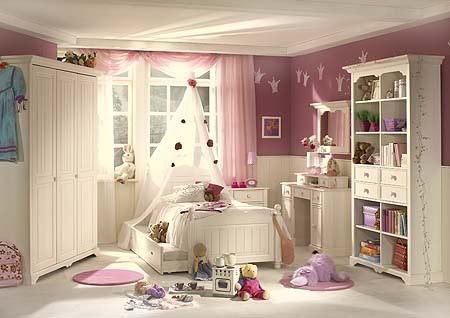 Yes, we finally bought my bed.
Yesterday my mom said that 500€ or too expensive for a non 100% made of wood bed, but today she said, that we should get me a new bed already and we ordered it!
I still don't know if that was a good idea, since this bed is not 100% what I wanted, it's just beautiful and nice.
And it's from a series called
Cinderella
, at least it's
princessy
.
But actually I bought this bed: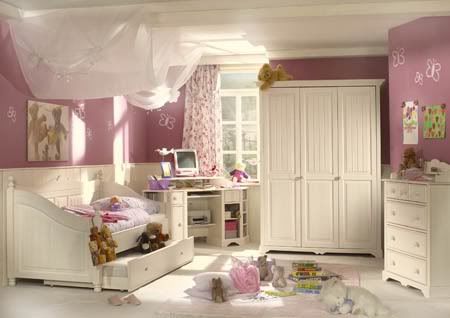 Sorry for the
totally
LQ picchas, but their homepage itself got no better images. Actually it's
inacceptable
to buy stuffs from someone, whose homepage looks that
shitty
.
After my mom negotaited with them that the bed is going to be delievered up to the my room and put up there, me and my bro took a look at the
baby department
.
They got such cute stuff there !!!
I have to get myself some stuff (like carpet, beanbag, canopy,...) from there !!!
But do you know how long it takes them to get that bed out of Switzerland?
2 month and the rest of August !!!
It will arrive at the end of
October
!!!
Which didn't please my mom at all, she told them it absolutely has to arrive before my birthday in November, or I'll be sad (making me to spoiled daughter-bitch) (_ _|||)
But it has one good side:
I can buy a lots of room decorating stuff and paint the wall at which the bed will stand.
I also
take advantage
from it, by introducing to you
My Princess Room Concept 0.0 - ∞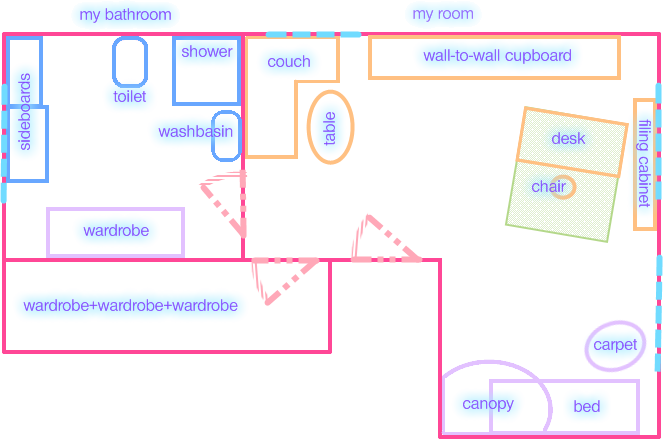 This is roughly my room (+my bathroom and that wardobe thingy).
Err... the proportions turned out to be a bit unhappy, but who cares...
All
purple stuffs are missing
.
Instead of the wardrobe I got another -this time ugly- sideboard. (the other 2 sideboards are very cool and one is quite low so that you can sit on it)
The stupid thing about my room(s) is that, there is the roof, so you know my walls are not straight (google says that this is called droop (Dachschräge), but I don't trust google)
That means, that buying a wardrobe fitting into my bathroom is quite a difficult matter.
Luckily Ikea got that wardrobe-system thingies, which can adjust their hight and so on (can't find any picture on their website)
Well the bathroom has to be completely renewed anyway, the tiles are so ugly.
And as for my
bed
...
The wall has to be painted with pink stripes, which I think has to be done in this holidays.
I wonder how I'll hang up the canopy, since we have the same problem with the roof on this side of the room.
The carpet will be some sort of soft and cuddly animal coat, like sheep.
Then I have to buy lots of other stuff from the baby department, since they're so cute.
I saw a pink carpet there full of tiny mickey mouse heads.
Or a little beanbag with cords on it.
That's it.
I'm kinda lazy the last days. I mean blogging-lazy.
Since I worked on
xiaorene's layout
and so on.
And OMG I have to lose weight!
I gained weight since the holidays begun (no wonder, the only sports I usually do is in school)
I gonna skip dinner for a week or so.
Well then
Chu, Ailing
*losing weight greetings*