Hahas ❤ (I lyke writing Hahas and making a ❤ after it

Anways, the deletion of the previous post has many very founded reason
I'm a good person, ain't I?
As soon as I don't have stress with school anymore, I blog for you!

Wow!
Having a life without school-life must be wonderful!
Today I
didn't
screw up in a maths test!

What a wonderful world!
Well, well, but it was also not perfect! How disappointing~

AHA!
Then again, I'm waiting for spring to come (what a jump!)
It's not like I'm a
sun/warmth/spring and the things related with it lover
, but somehow this cold, grey wheather is so un-gal, that I wish it was spring!

The more important thing:
I already told you that I'm going to do my
paper
(what a fuck translation) abt something related to
Singapore
.
Thus, my mom
seriously urges me to fly to SG
!!!

Actually, I'd love to fly, but
alone
? Never!
All my other friends, either have no money (since I'm already going to France with them) or wouldn't even be allowed to!
Yesterday I told
Angelababy
about it, and at least, she didn't say
No, I'm not allowed
.
I so hope that her parents are going to let her fly with me!

My mom also checked out how much it will cost, and 10 days in a ★★★★ Hotel are abt 2500€. I guess that's not cheap, but I guess it's manageable, isn't it?
Btw, what's the difference between
Superior Room, Deluxe Room and Premier Room
?

So, whatever, pray for me and maybe maybe, I'll be in SG this summer !!!

(Hopefully, TVXQ will perform there for some reason during my stay!)
Anyways, I didn't tell you that my cousin has been flying Vietnam, did I?
Well, the most awesome think abt it, that she had a
6h stop over
at
Seoul

I gave her some gazillions of money and told her to buy me all nice stuff she can lie her hands on.
And also all kinds of stuff from Vietnam. She even asked me if she should get me
Hello Kitty
stuff, because she'll get those for Nana and Lena anyway.
Now, I'm waiting for her to come back and bring many many pink things

(in 2 - 3 weeks).
Lastly,
look what my mom's done to my bangs
.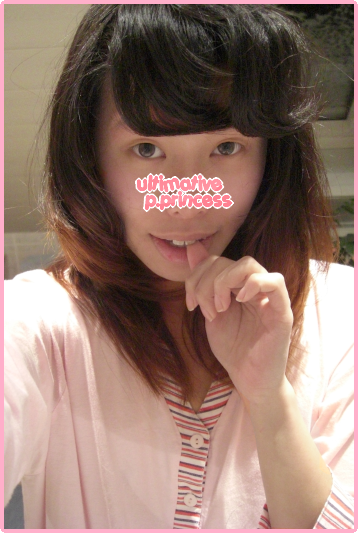 Pic taken yesterday before going to bed
After washing my hair I tried to put in curlers, but I totally failed!
That was when my mother came and put them in for me, super pro, lah!
Luckily, they didn't look like that the next day

Chu, Ailing
P/s: Dancing 4Minute - Hot Issue at the moment! I love it!