A short update from my lean life.

Because I don't feel like doing anything.

Not coding, not picture-editing, not whatever.
Not even blogging really.
But I MUST do sth. So
The day before yesterday, school, city (saw one
must have in life
thing, 40€ will buy) then
DIY store
A.
Looked for
tiles for my new bathroom
. Lucky me, the peeps there are renovating, redecorating whatever. Tiles looked super ugly non-eye-pleasing arranged = totally cannot be arsed to take a look at them (properly).

But I did, and found exacty
2
kinds I like (for wall and floor). 3pm already, heading to the supermarket (remember J in tow all the time めんどうくさい to the max

) buying 2 Hamburgers, 2 Chickenburgers and 2 Hot Dogs. Hahas ♥.
Went to my
aunt's in the evening
. Sang
You're my Melody - TVXQ
(linked up there) super loud, while walking over the bridge and rest of the way to her
.
Dinner
at hers, then my mom came in,
10 sek later
, my cousin came home and told her that she just got a
ticket
, cuz she parked at an access for the fire service. TML.

She got totally angry, and made us
go home again
. WTF.
Yesterday, woke up at 8am? (Saturday lah!) And off to
DIY store
B. Looked for
window blinds
. Ordered one to black-out in rosé and one to shield from light in white (as it says for a
harmonic exposure to light
). A bit less than 500€, would pay half of if, but my mom doesn't want me to. (Crazy one!

)
Well, at least she says I have to pay my washing basin from my own money.

Anyways, stuffs coming in
2 - 3 weeks
=
superlong time, lah
. Such things always take such a long time!
Anyway, my mom clearly got crazy.
She want to make my room completely different. Like moving the doors to another place AND (and this is the craziest),
she want to make a
platform
right under the roof !!!
Let me explain: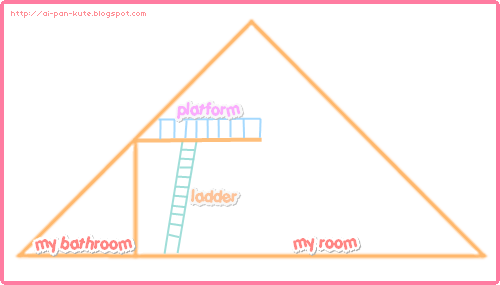 The ladder is my idea, she wants a spiral staircase, but I say I won't have any staircase in my room, cuz it's めんどうくさい to walk around it all the time (going into the bathroom or coming out of it).
It's an
awesome
plan, but thinking abt the
money
I dislike it.
Whatever if she really does it, I won't be 100% against it.
That's it.
Wanted to write a post containing these 'yesterday I blabla after that bla bla' for the longest!
Chu, ailing