I've 3 totally vain things to blog about lah!
But since I'm a responsible blogger I shall bother to tell you.
First
, this friday will go out for dinner with A's family.
Love eating out!
I already know what kind of meal I want to eat.
Something hot with coconut milk. Hahas ♥
The reason for this event shall be revealed later (when I feel like editing pictures and blog the post I've started some ages ago).
Now for the
more narrative part
.
J and I were walking down a narrow road, which was parked out (there isn't such a expression right? - I mean so many cars parking on the left side, got no place to go lah!).
So I had to walk a bit behind J., like left behind him.
We are walking and then came a couple towards as, with the woman walking in the front.
I guess you know such, situation, both sides are too lazy to make bit fuss about moving, so everyone leans to one or the other side and so still both can pass each other with
sllight
streaking each other.
Ok we walked towards each other, I moved a bit more behind J. to make place and that bitch totally body checked me.
Not normal body check were you think
Do you have disturbed sight or disturbed motor skills?
and then forget about it again.
She hit me with her whole body and it totally hurt lah!
The
Did she just want to kill me?
-way !!!
What's wrong with her?
I mean the guy behind her didn't even touch me, so she could've passed me in an less agressive way.
Anyways, I mumbled
bitch
after that happened and because J. heard it, he asked me what happened.
I told him of the body check and he turned around to look at that woman.
So I also turned around and saw her and the guy standing several meters behind us, looking at us, too.
I turned around again to walk on, when J. said that she just gave him the finger! (den Mittelfinger zeigen)
Again what's wrong with that fucktarded bitch?
As if I did anything to her.
And even if, the finger?
If she's getting so mad about everything, she'll only die of a heart attack lah!
Well, my theory is that when hitting me something she carried (which was damn expensive and unique) broke into a gazillion of pieces, it's content (non-washable, super stinks, damn shocking color and also mad expensive) ran out over all of her clothes (expensive and you-get-it) while she was on her way to something where she had to deliever that something in a flareless condition in super looks (if not will die or so~)
Serves that bitch right!
Stop body checking people who didn't do you anything fucktard!
3rd
is the most vain topic to talk about.

Donghae of SuJu
I think men who look that good shouldn't be allowed to get hold of a cam in order to post pics of themselves.
It's really not fair to all the girls out there who
totally know
that they will
never ever
get near to such a someone.
Acutally it's not only not fair, it's mean.
Also (and I like this part about his pics most) what's that uber strange, but still totally cute expression on his face?
Like
Please don't break my heart
?
Or
Do you love me?
?
Seriously?
Ok, let's make a
sophisticated guess
.
He's either new to cam-whoring or just unsure of his good looks in generell (totally can not understand!)
I got more eye candies of his cute face for you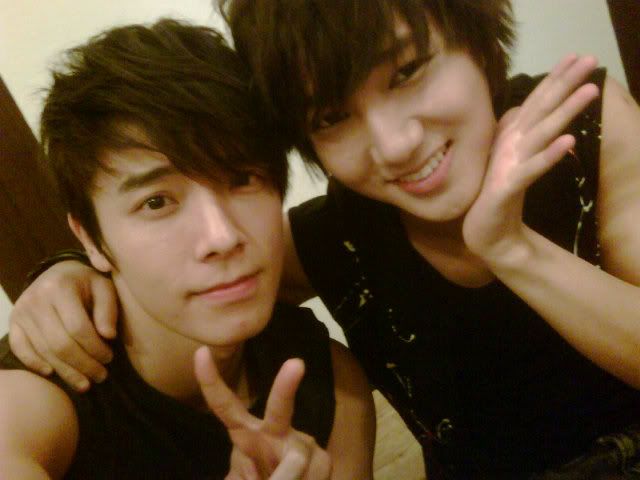 I don't know who the human next to him is, if it's a SuJu member god will forgive me, because they are 13.
If it's some girl, than LMFAO



Whoa~ That face is damn making one melt lah!
Do you feel it?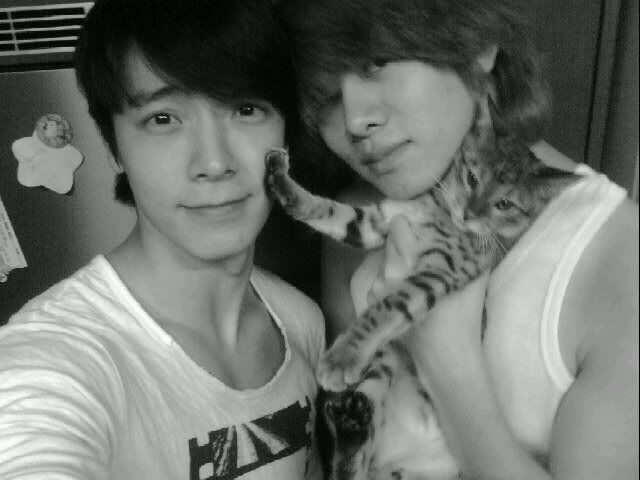 Or maybe he doesn't know how to smile? (thinking about that gay biker in One Piece who looked like i'm-vomitting-shit-atm-sorry-can't-pose-right--now)
The cats paw on his cheek just looks so cute!
Ok, I'm sounding ridiculous~



Mad cute!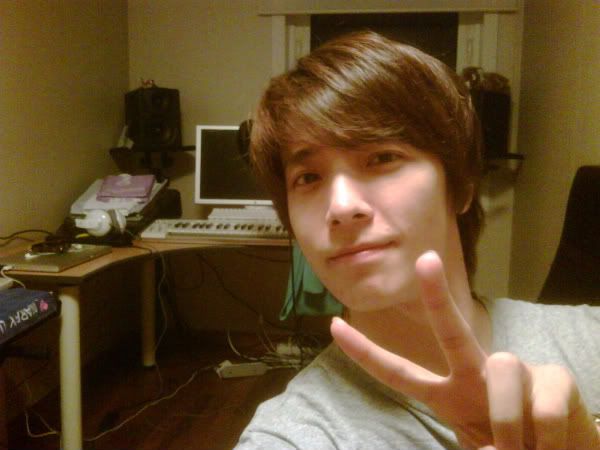 Click here to view totally big!
Even with such an unique and super cute face I was unable to recognize him in the
Blue Tomorrow MV
.
Ok the vid got shit lightning and he wears a cap, but still?
It once again shoes, that I just can't can't distinguish Korean faces, which is fatal! Fuck lah!
But I think I knew who he was in the other SuJu M MVs.
In the
normal
SuJu MVs: no chance?
The other 12 moving men totally distract me.
That's why I mostly recognize singers by their voice rather than by their looks, the problem is often I still don't know their name (Korean names lah!)
Donghae is a really easy name, but some names totally won't get into my brain.
Especially korean girl names, sound all the same, I don't know one real korean name of a female star. Not a single one.
When J. and I talk about singers it sounds like
Do you mean the one singing the 2nd repetition of the bridge?
The 1st rapper or the 2nd one?
The one who also sings this kind of scale in XY?
It's really annoying how their faces won't go in my had.
I look at them, see another pic of them and looks like some Swahili, never seen before.
I have one last pic for you, which I find especially interesting: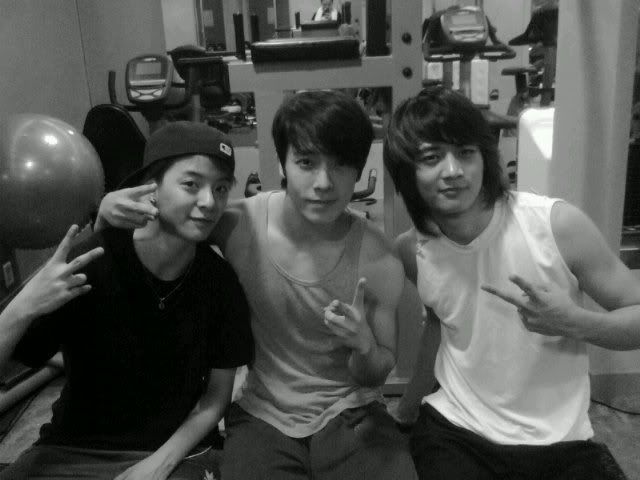 This pics is the reason why I wrote, what I wrote on #2.
Do you know who the guy on the left is (on the right is Minho from SHINee lah~)
It's Amber!
Right Amber is a girl's name and the guy is a girl!
Ok, calling her... ugly might not be that correct, but~
J/K!
(Wanted to cut her out of the pic in the beginning, but decided that I was too lazy!
What I exaggerate and am mean? You wouldn't even know that I cut her out if I really did so!)
I believe she's as beautiful as any other korean star (who got 100% make over and other things normal people don't speak about!)
But somehow, it annoys me to see that she looks like a boy. Idk.
With that cap, too.
It looks shitty. REALLY.
Btw, I
fucking
hate f(x).
A bunch of mediocre teens lah!
If we all start worshipping kids we'll end like... I mean, we're just humiliating ourselves.
Actually I'm kinda afraid of saying that I hate them, since they look like they gonna commit suicide if s.o. tells them they like other bands more than them.
Or maybe not suicide, but die of sadness or sudden shock or unbelief!
But more about this at another time.
That's it for now!
Bye byes!
Chu, Ailing