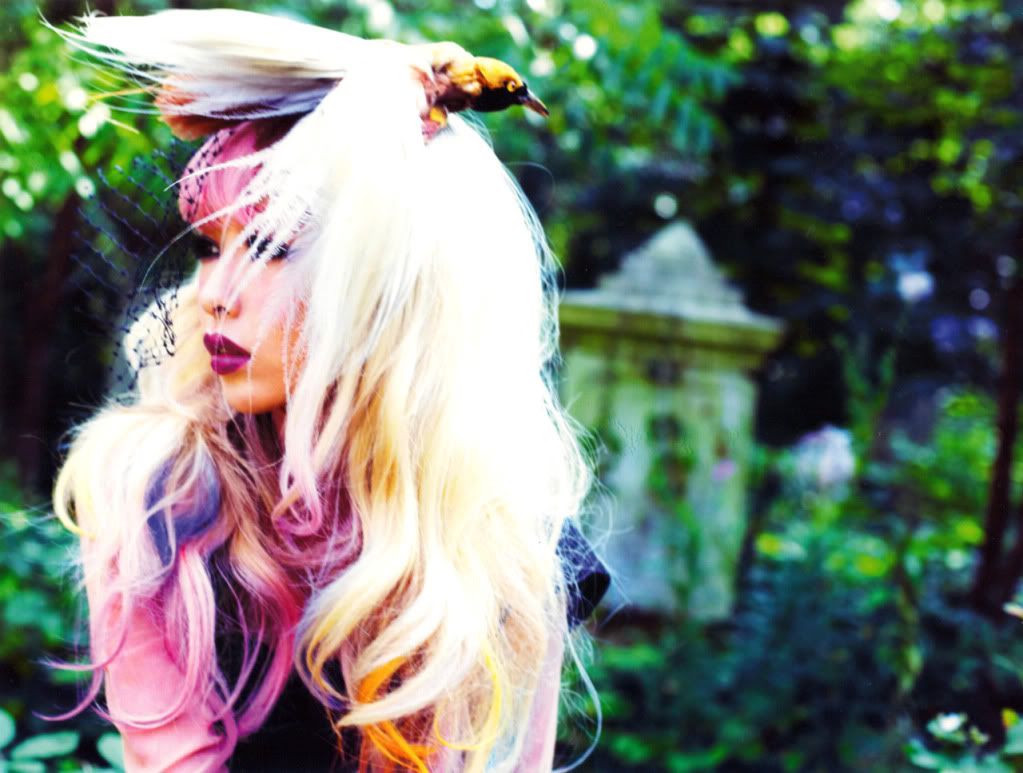 I finally found a perfect pair of black, sexy, punk-ish, rock-ish, edgy ankle boots!
Since when do I want to have one? Last year around December/January!!!
Why I never got one? Cannot find lah!
Either I buy super overpriced directly from Korea, or I buy normal-priced form China (bt low quality for sure!)
And when it comes to heeled boots, I don't think one should blindly being cheap.
Why do I (and all of you - girls) need a pair of black ankle boots?
look see:
They instantly create this daring sexiness, in a kind of subtle way!
By making your legs seem sky high, for example.
A perfect case of how Koreans achieve their effortlessly sexy look! As a fan of Korean fashion I had to get hold of one pair.
Here's another way to wear them: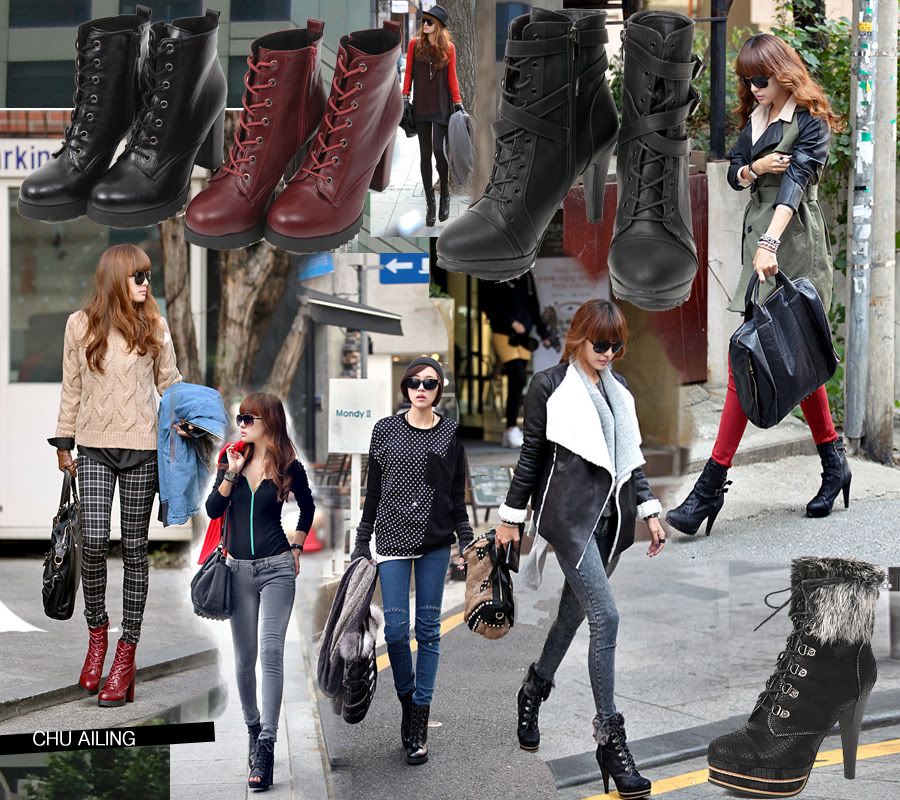 Although being more mature and lady-like, these looks don't lose any bit of their finesse.
Love it!
A little guide to
How to find the perfect Korean Biker Ankle Boots
:
As you see they come in many styles, with higher or lower top, with silver embellishment like studs or buckles or even open-toe (and in red too LOL).
Still that doesn't mean you can just by any pair of ankle boots!
they must have a platform! MUST
You don't simply buy heeled shoes w/o any platform!!! (except they are pointed)
Platforms make the boots look sexier, and yourself taller and your legs longer!
must be laced up
If they ain't, they look too classic. The laces are essential, without them the boots won't be dirty boots.
should be black
These boots are often sold in other colors, mainly brown. While they look good in brown or red, too, these colors don't have the same feeling to them as black.
Only black is biker-like. And sexy.
Brown is more boho-, romantic-like, to put it short: won't do it.
Although these are only 3 criteria, I couldn't find any fitting boots other than in China or Korea.
All the boots sold over here,
NEVER
have any platform.
Then I happen to find a nice pair from
Tally Weijl
, but - I love my luck - they never sold in my Tally Weijl store!!!
So, there was nothing I could do
UNTIL
some time ago I stumpled upon this amazing pair of puurrrfect biker black ankle boots.
Aish, they are so perfect, I could start to dance around in my room right now!
HERE
Since they were sold from a UK-based store, I could connive at their quality (they are from a brand called 'Strawberry').
Also they are
On Sale
, how could I not buy them?
Until now I'm very happy about their quality and
I mad love the tassels!
Unfortunately only size 7 and 8 (UK size) remain, so if anyone wants to buy, be quick!
They are kinda restocking them I think, cuz when I bought they had only size 4.
Which actually is a bit too big for me, but must endure!
Here are a few more inspirations for you. Found at
The Guilty Hyena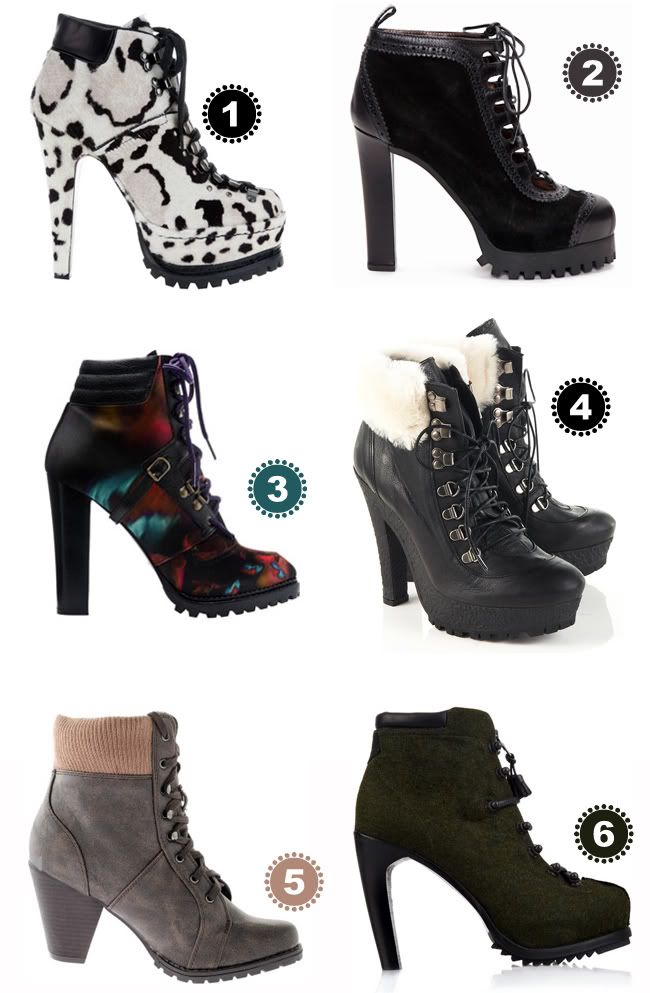 1. Azzedine Alaïa Black and white pony skin boot | £1249.00
2. Dsquared2 Black Roxy Boots | £580.00
3. Nicholas Kirkwood for Erdem | £710.00
4. Topshop Arella 2 Heeled Hiker Boots | £70.00
5. Misguided Kadie Lace Up Hiker Boots | £31.99
6. Rag & Bone | £615.00
(A little note: see pair #5? So goddamn fugly lar!
No platform at all!
Those pairs can be found at any shitass place in the world, I saw them everywhere, bt noone thought of designing with platform for 32 GBP !!!)
That's it.
A fashion update. ...
Chu, Ailing
P/s: Images via yesstyle